"It all started with a girl."1 I read that in a comic book before, but here I am referring to a real girl, not a fictional character.
This girl's name was Neda Agha-Soltan, who was killed almost a year ago in Iran while watching a peaceful protest. Neda's death was captured on video and in the days immediately following, the video was shown around the world. Since then, she has become a powerful symbol for those wanting and promoting change in Iran. Significantly, her name Neda means "voice" in Farsi or Persian. Even today, it appears the regime in Iran is afraid of her symbolic memory as they have desecrated her grave on more than a few occasions. (See "Neda Agha-Soltan: 'She is dead but regime is still afraid of her'", which also has a video documentary of her.)
June 12, 2009 was the date of Iran's 10th presidential election, the results of which was being protested on June 20, 2009 – the day Neda Agha-Soltan was shot and killed. Others were killed along with Neda, though the number of confirmed casualties is in dispute. Others who were not killed were held captive, and to this day many are still being held prisoners. These prisoners are called "prisoners of conscience", a term coined by Amnesty International (Amnesty or AI) in the 1960s. "Prisoners of conscience" refers to "those who have been imprisoned and/or persecuted for the non-violent expression of their conscientiously-held beliefs." (Ref: Wikipedia article. See above link.)
Today is the anniversary of Iran's 10th presidential election, which led up to the Iranian election protests and to the untimely death of Neda. Amnesty declared today a "Global Day of Action" and along with other organizations held a protest/rally in Toronto. Following are some photos I took while dropping by Queen's Park to check out the rally:
"June 12: Oppose Torture, Unjust Imprisonment, and Execution in Iran!"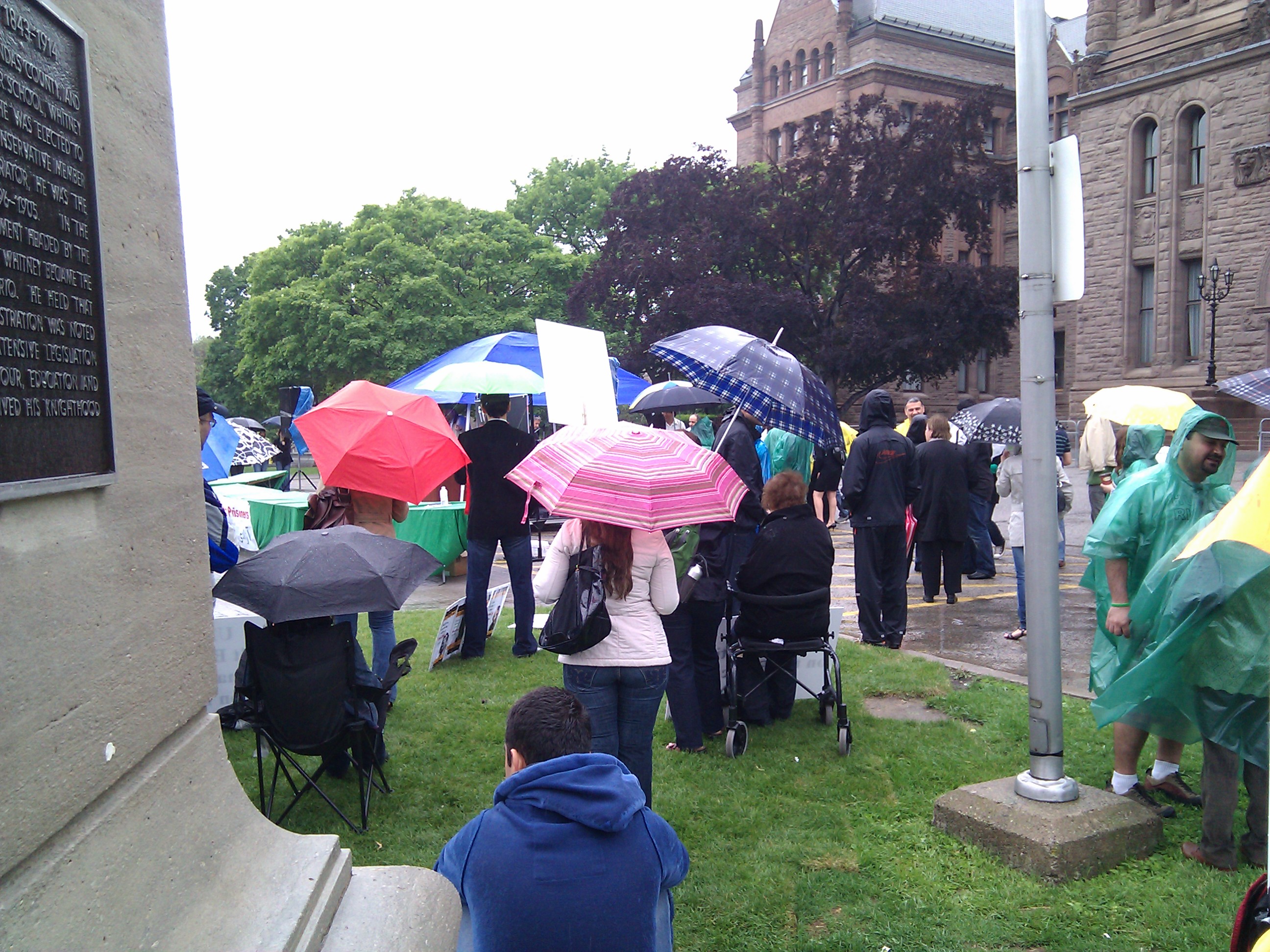 Rainy day, but that didn't stop these people from coming out.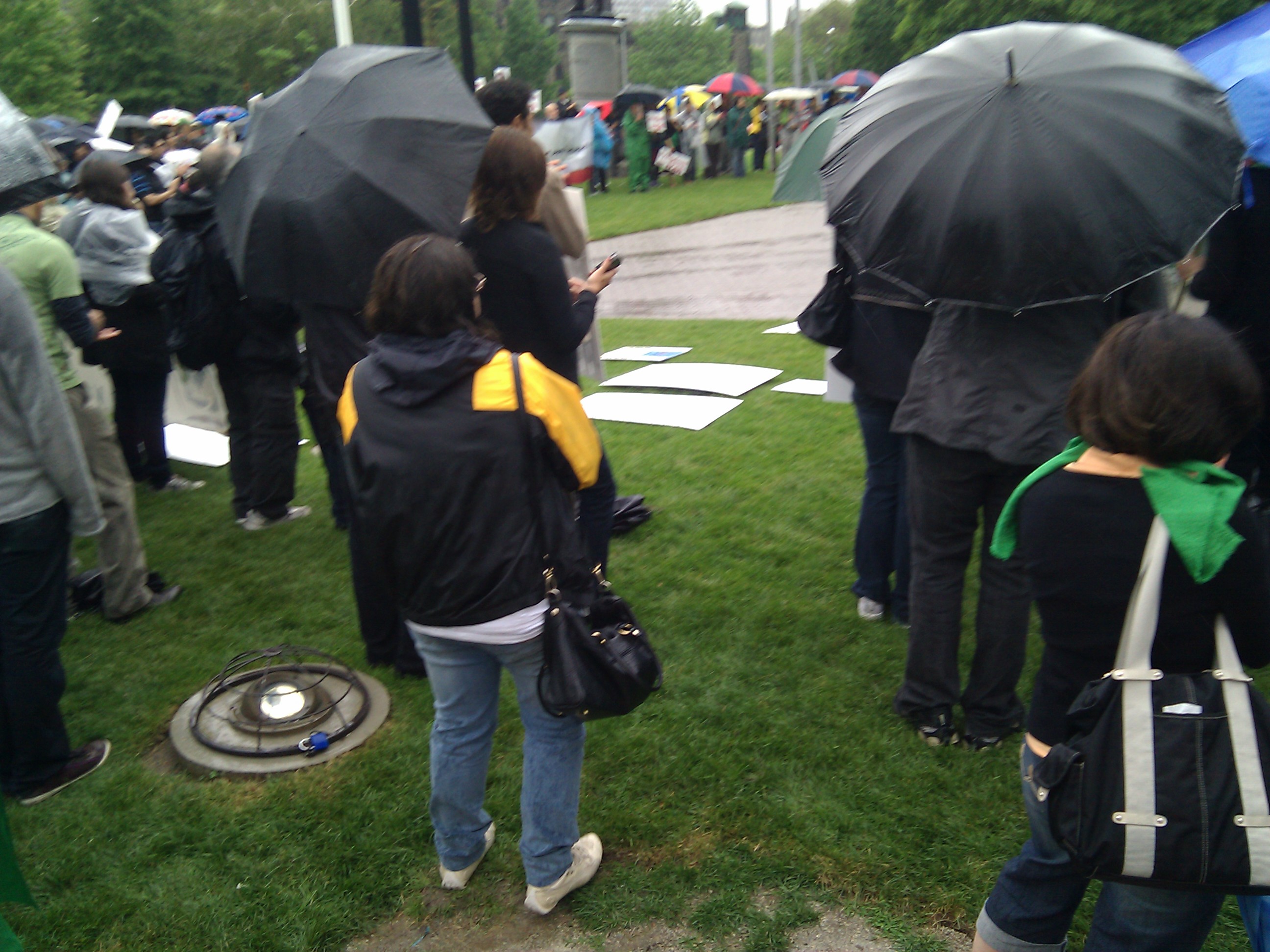 Nor these.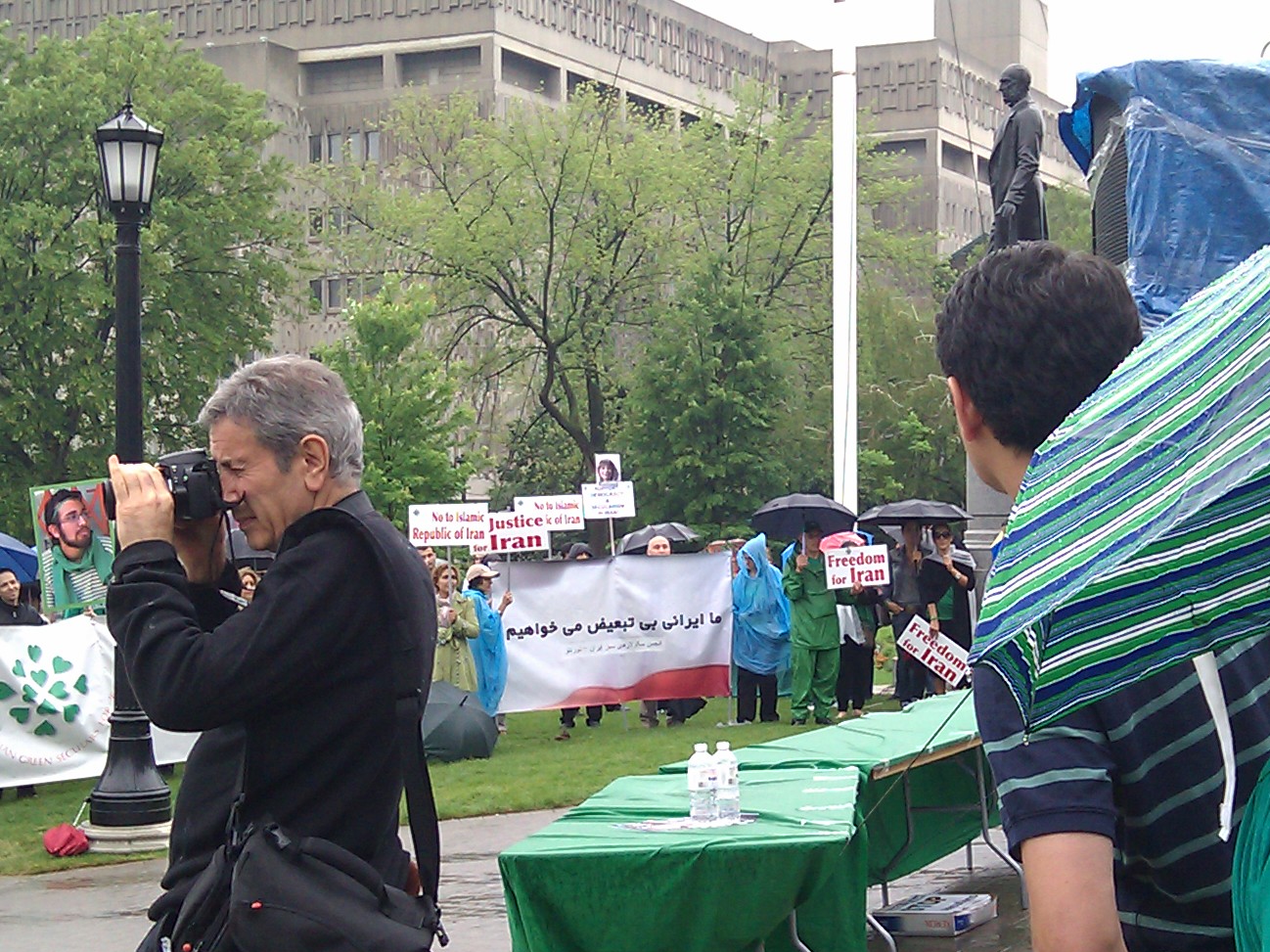 You can see a picture of Neda in the background, above the big sign with Persian on it and next to "No to Islamic Republic of Iran".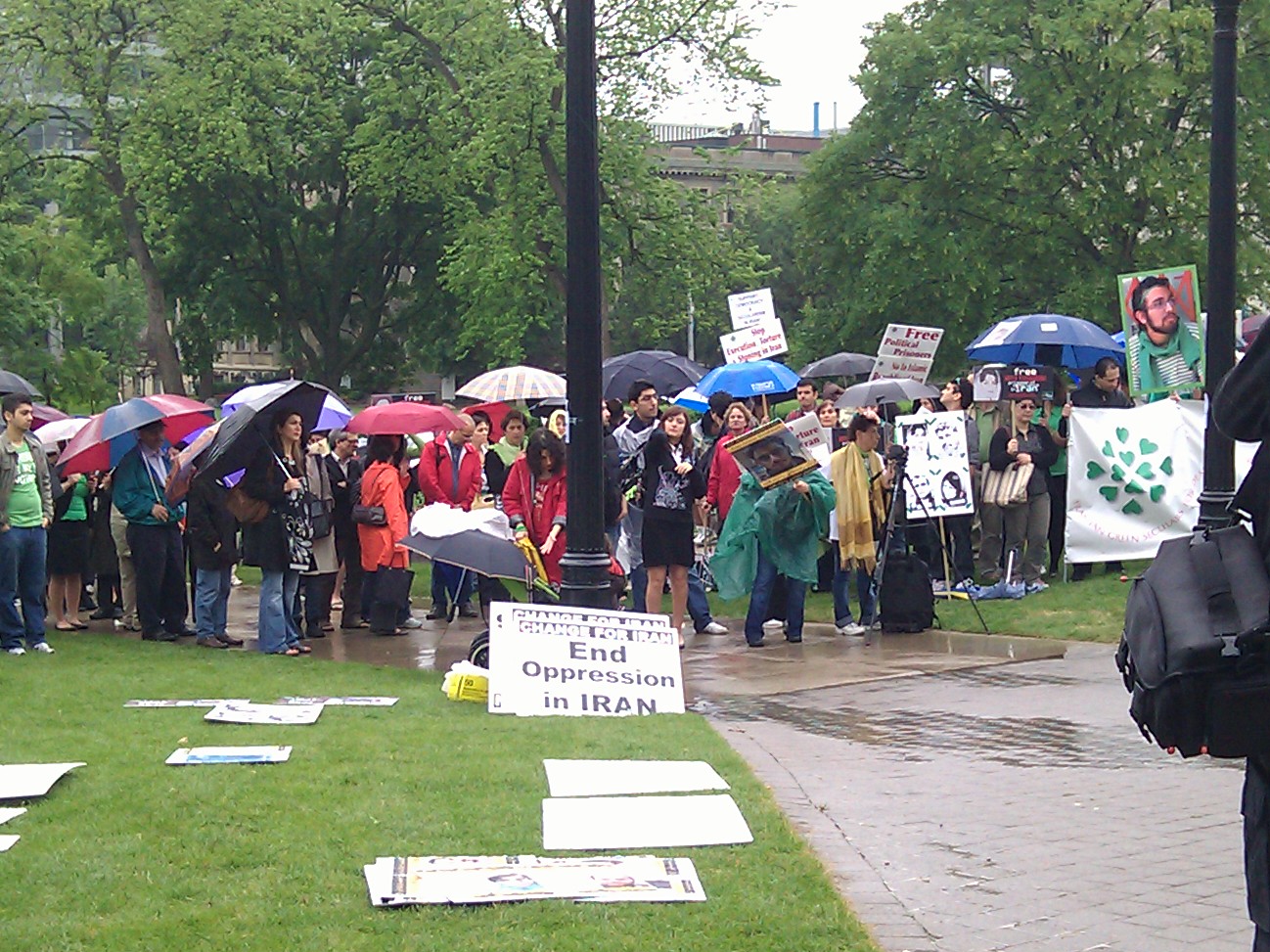 More people staying the course on a rainy day. Life could much worse than getting soaked by rainwater.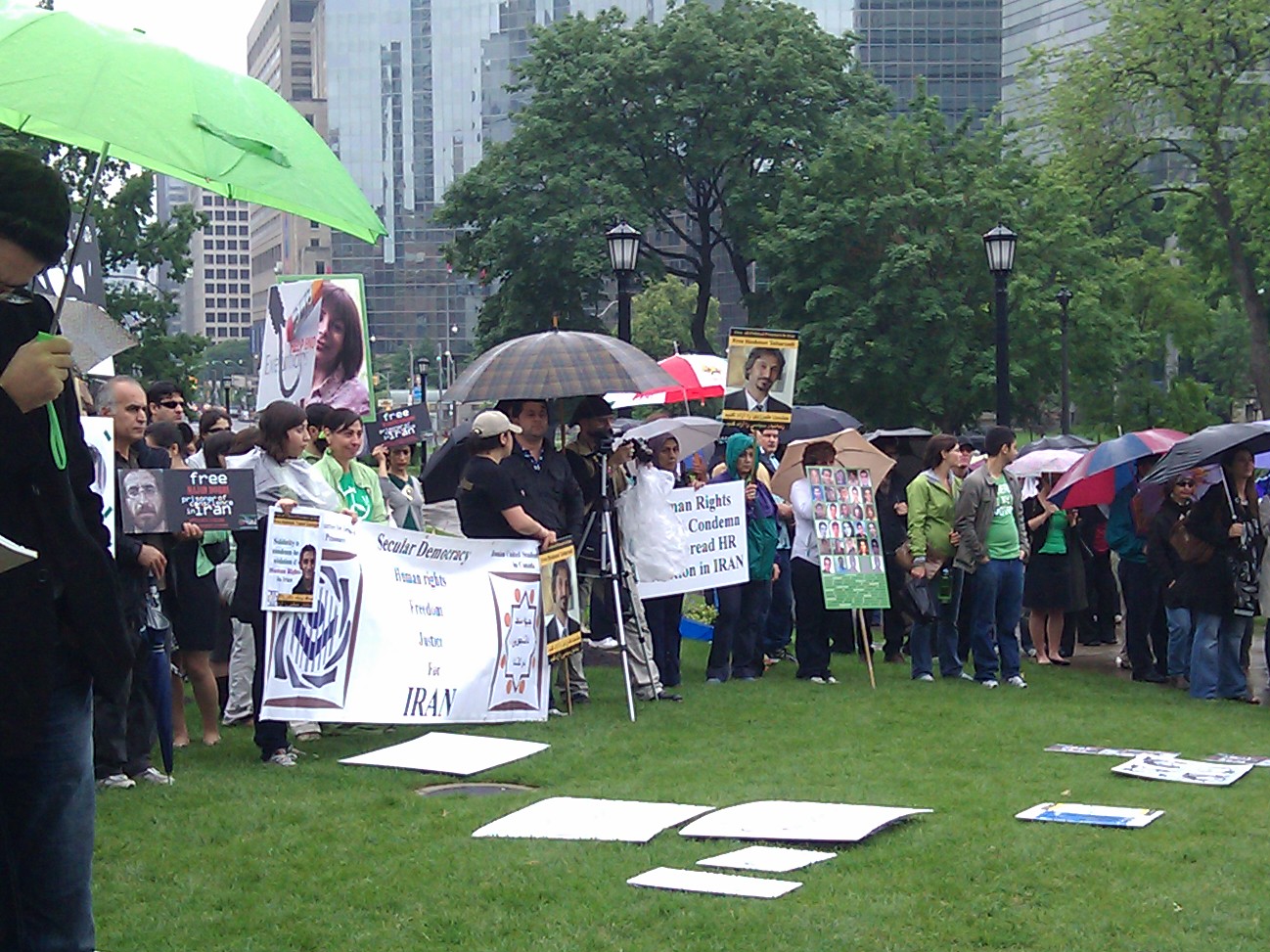 The big sign on the left says "Secular Democracy. Human rights. Freedom. Justice for Iran." Above it is a bigger picture of Neda.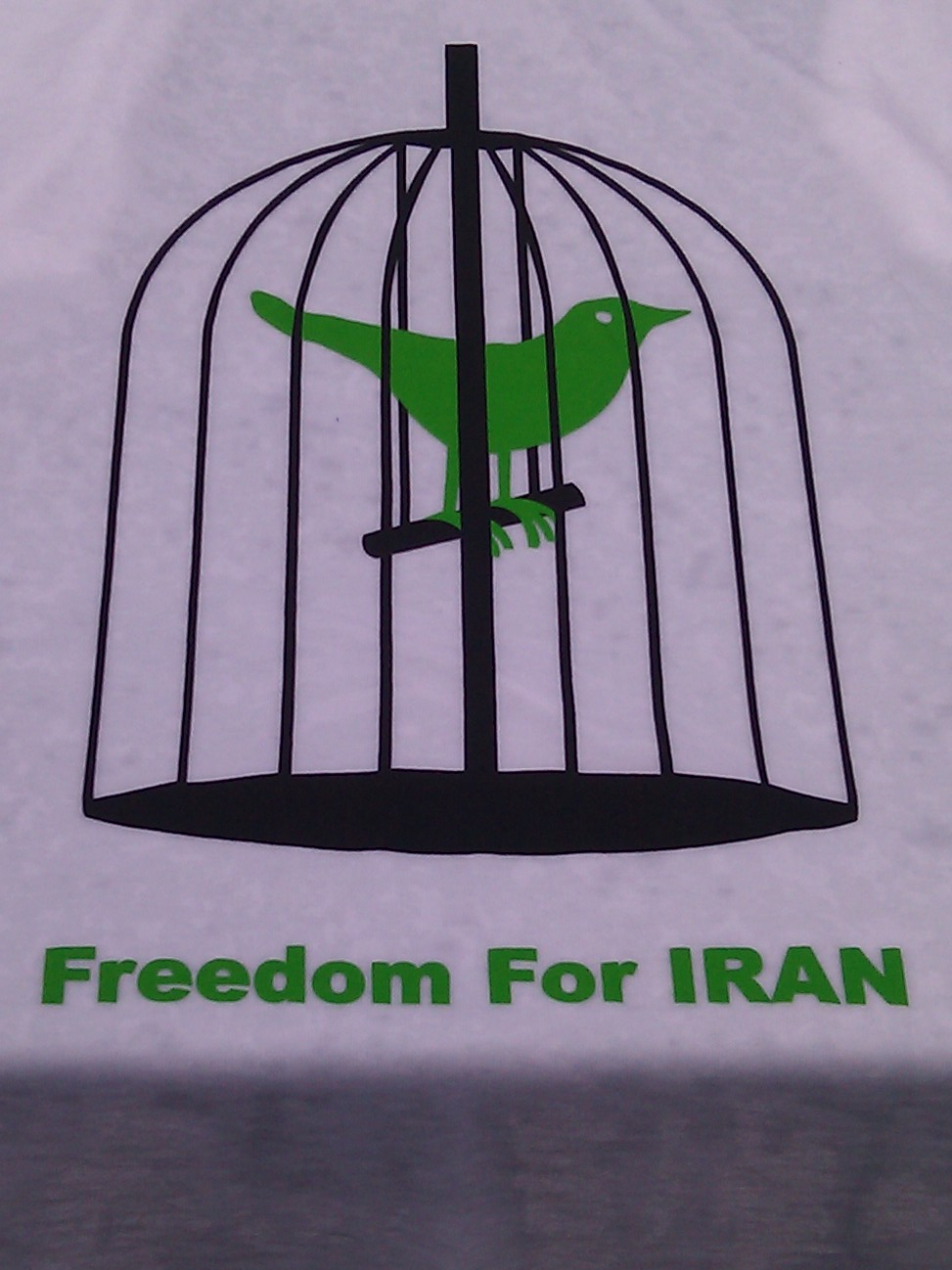 T-shirts for an important life or death cause.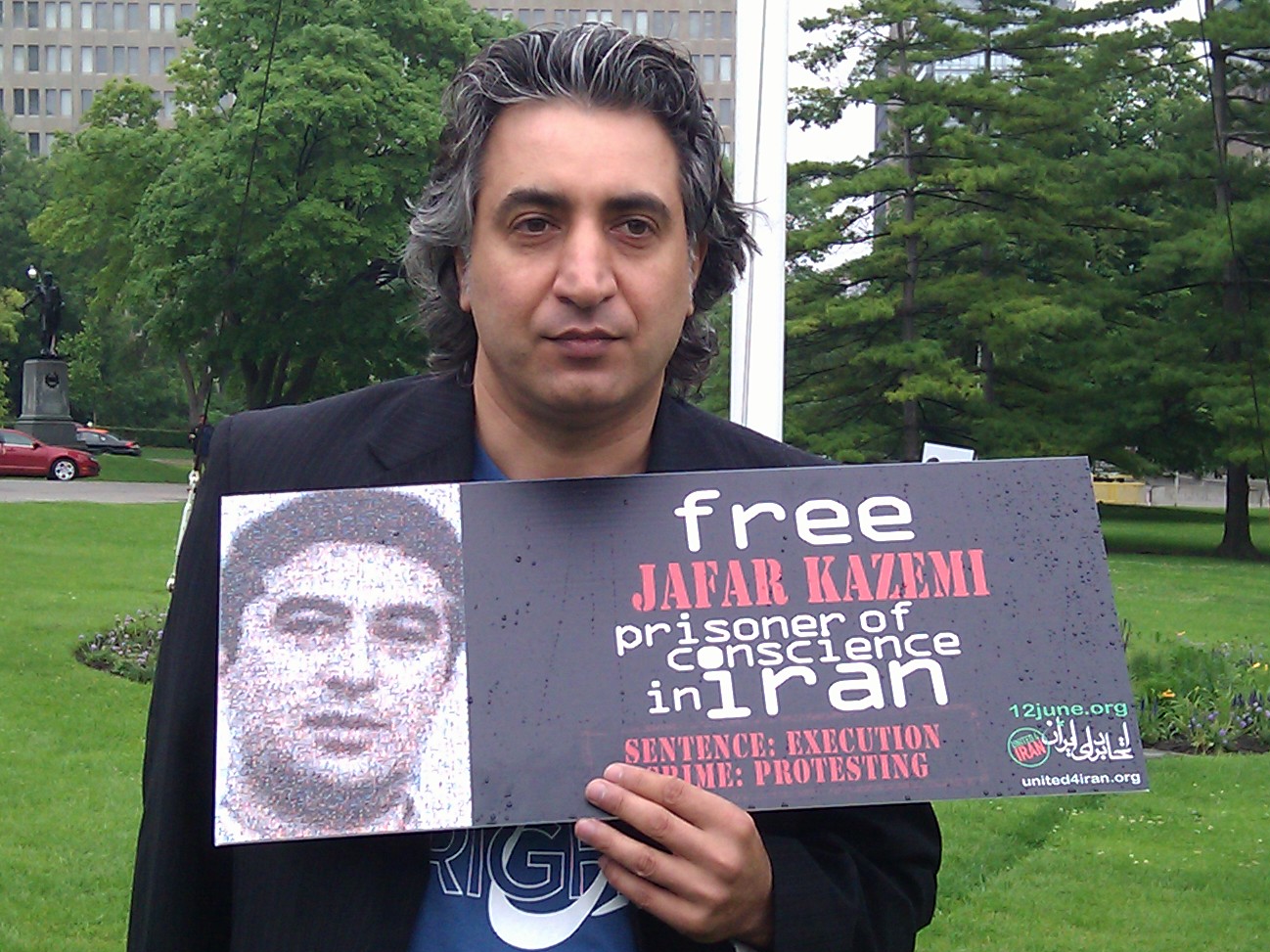 "Jafar Kazemi. Sentence: Execution. Crime: Protesting."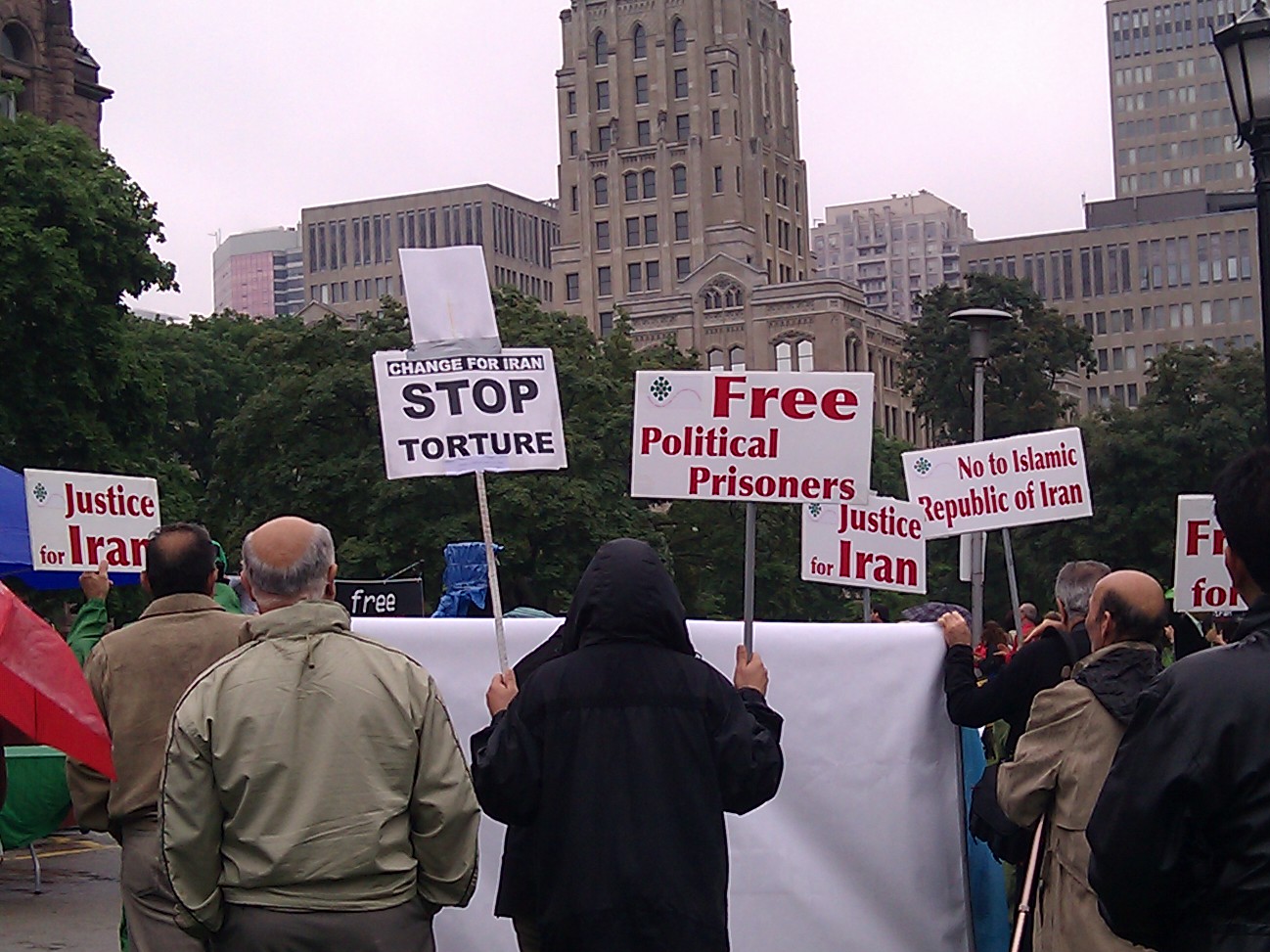 Lots of signs.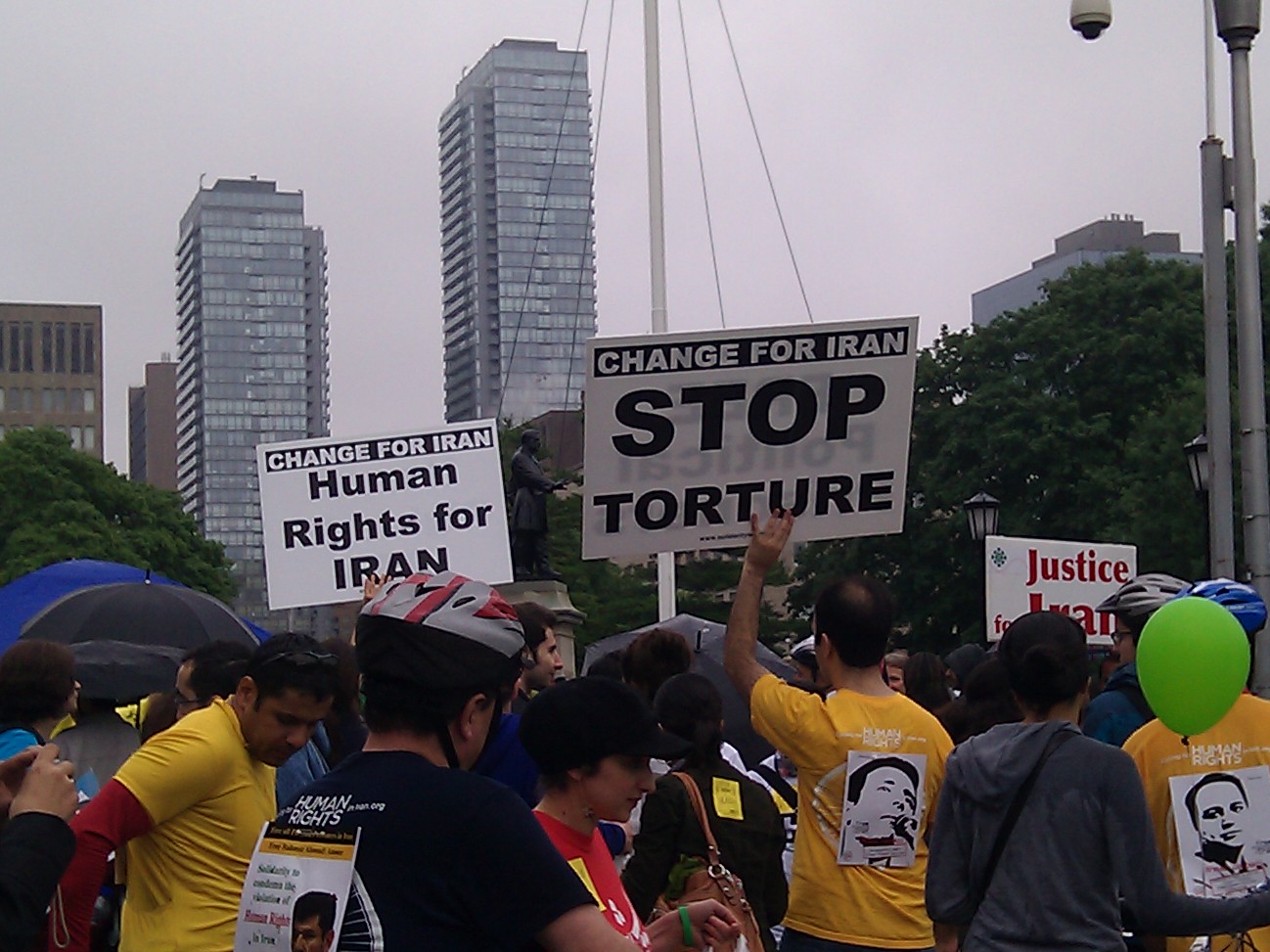 And more.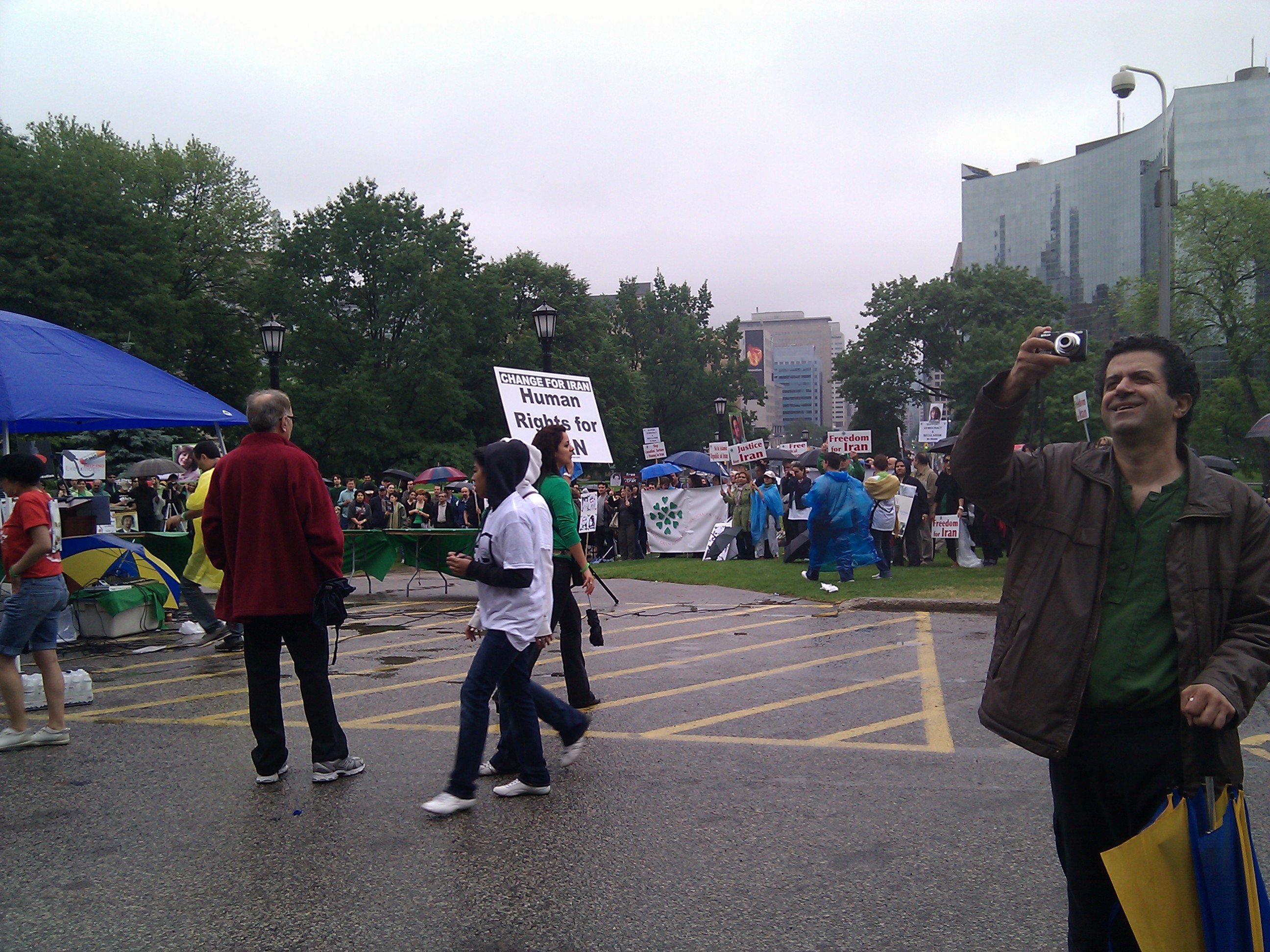 Large sign obscured by people: "Change for Iran. Human Rights for Iran."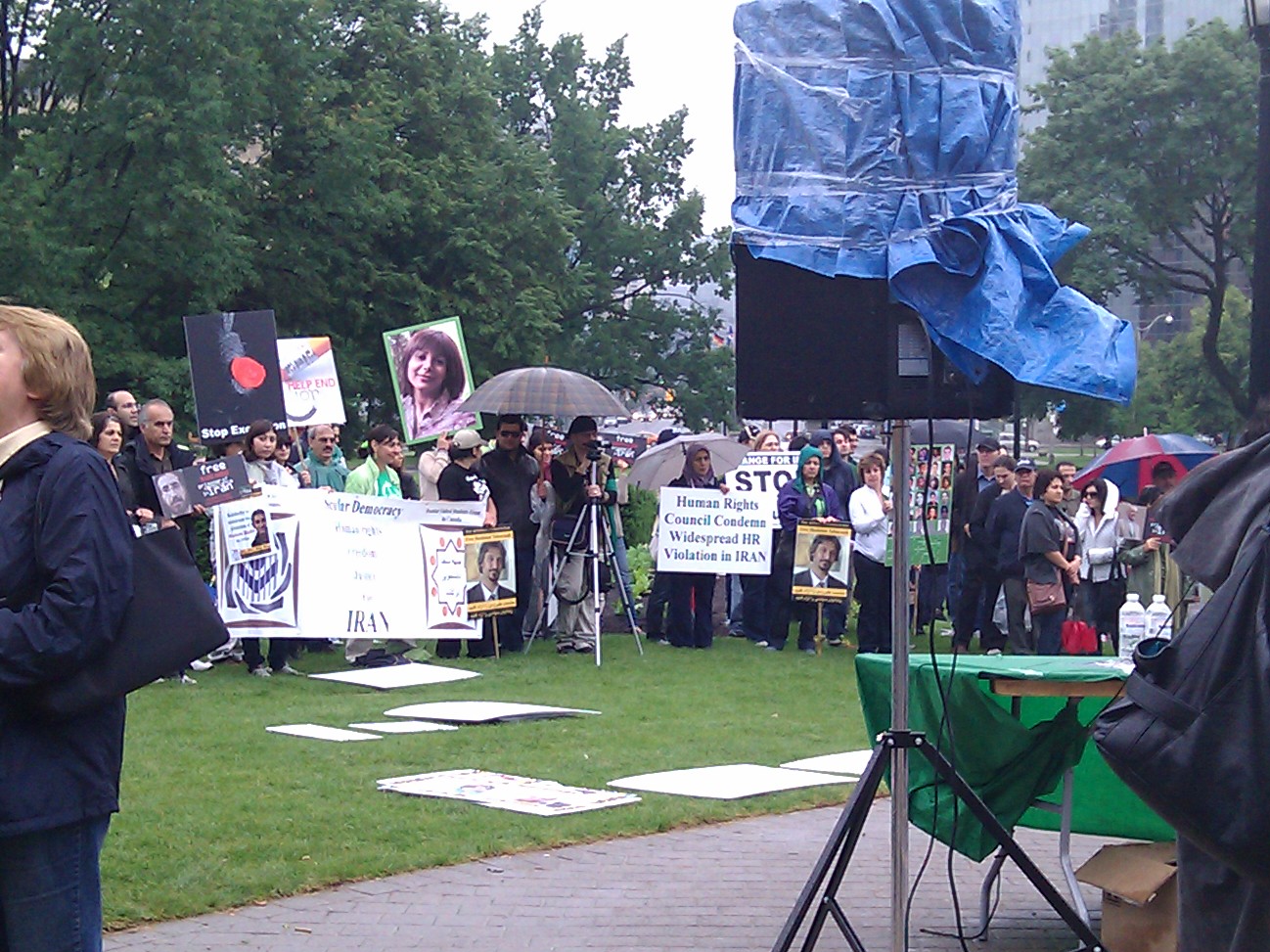 One last shot. Large photo of Neda. The black sign with the noose says, "Stop Execution." The white sign in the middle says, "Human Rights Council Condemn Widespread HR Violation in IRAN."
If you believe in peace and freedom for all, please consider signing Amnesty's petition and help free Iran's prisoners of conscience – Release Iranian prisoners of conscience.

"Neda" video by The Airborne Toxic Event
For more about Neda and how else to help human rights in Iran (and elsewhere), please see "Neda Speaks".
~~~C
Your local human rights blogger,
"I am Neda"
Notes:
1. Angel: After the Fall (volume one)