Nate and I decided to do a (minimum) 20 km walk this year. Last year I did a walk/run down Yonge Street from Finch to Bloor, which was 12.6 km. This year's walk (this past Saturday) was nearly double last year's. We started our walk at Church St. and Weston Rd., then followed the discovery walk paths along the Humber River down to the lakeshore. This brought us to the mouth of the Humber River, where it joins with Lake Ontario. From there we crossed the Humber River bridge (see picture below), and walked east along the lakeshore to Union Station.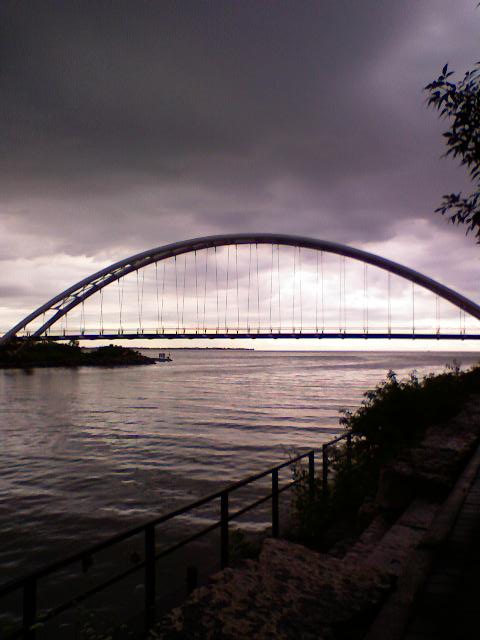 Humber River Bridge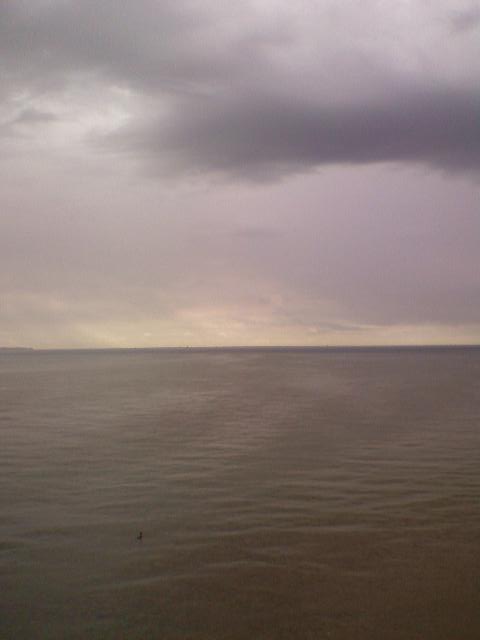 View of Lake Ontario from the Humber River Bridge
The walk took just about five and a half hours. Halfway into the walk, it started to thunderstorm. I think it rained for almost two hours. Luckily, I was wearing a waterproof track jacket. Unfortunately, I had changed from my track pants to my shorts earlier because it was warming up. We weren't expecting a thunderstorm that day, but well… I'm going to blame it on Nathan and that's that. My legs were actually starting to get cold from the rain. By the time we were walking past Ontario Place, my good knee was starting to get cold and stiff. We walked on and the rain starting to ease up. Eventually, I found some shelter that turned out to be a washroom where I could freshen up and change back into my track pants. It wasn't much after that that we reached lakeshore and Bathurst. From there, we could just walk along the Queen's Quay to the Harbourfront and then to Union Station. I'm amused that the thunderstorm happened just as we were walking along the long stretch of lakeshore were it was more desolate. By the time we got to Bathurst, it was sunny and warm again. Go figure!
All in all though, I was happy with the walk. My feet were a tad sore, but in actuality no more sore than when I used to do three hours of taekwondo training. I felt that good about the walk, I still went for a run the next day!
~~~C